Insured, Bonded & Veterinarian Recommended

Talk about LOVING your job!! The Love provides pet sitting services through sub-contractors. All pet sitters contracted by The Love are fully covered by our general liability and bond insurance.

Each sub-contractor is personally selected by Tina and Trish based on their professionalism, quality of work and love of pets (of course!). The Love strives to provide the highest quality pet care possible and only contracts with those pet sitters that meet our stringent standards. Each sub-contractor is taken through an initial training period with The Love so they can become familiar with our standards for pet care services and we can assess their work product. This allows us to assure you the highest quality pet care services possible. Besides Tina and Trish, our pet sitting services are also provide by:



Diane
"I think I was born loving dogs. I started asking for one when I was about 7, but we had a large family so I had to wait until I was 13 for the big day to arrive. The breed and gender were not of my choosing, but I fell in love at first sight. I took Fritzie with me wherever I could, and taught her all kinds of tricks, and I realized that she was the best dog who ever lived. As life went on, I had a series of dogs, or multiple dogs, along with cats and a few birds; even a pet crow that I rehabbed for a year and released. Each of these managed to be the best who ever lived. For a number of years I competed successfully in AKC Obedience Trials. In 2011, I decided to follow my heart and work in the field I loved the most. I was lucky enough to meet Tina and Trish and the Love'm & Leave'm Home team. Now, I love going to work each and every day. Each pet is unique and I learn what they like the best and how to make each visit with them a happy, and anticipated, event for both of us. Since I joined The Love, I have also learned that each one of our client's pets is the best pet who ever lived!!"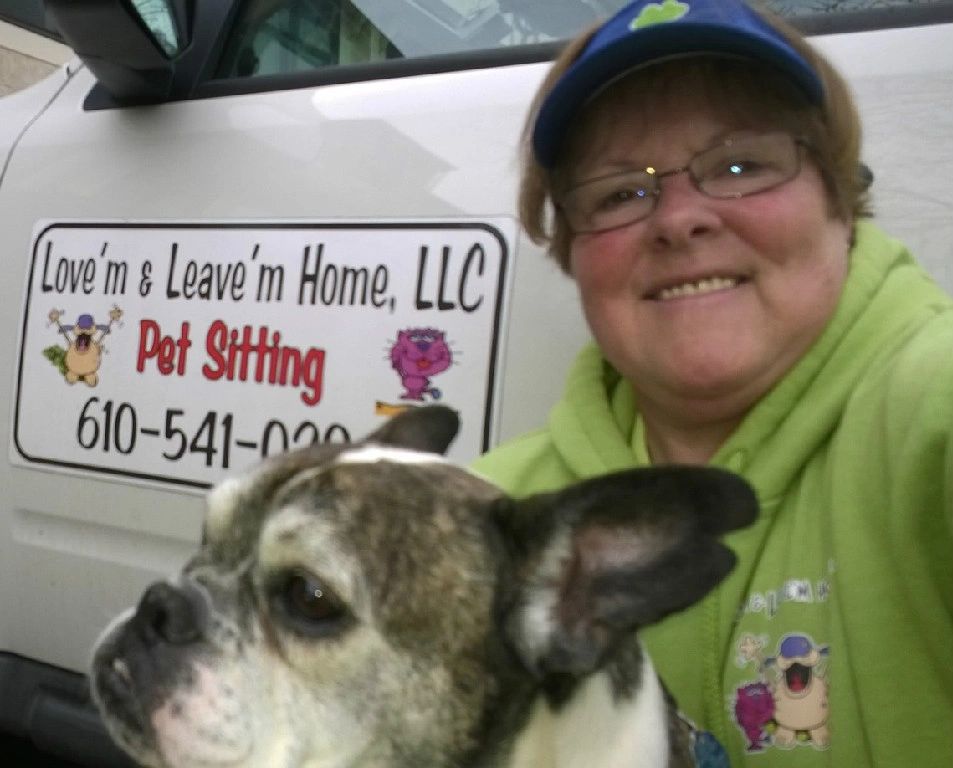 Mary Ann ("Mare")
"I am a retired project manager with health care and HR background. Married to husband Dan for 41 years, 4 great kids and 4 super grandkids. Love all things outdoors and all animals (snakes…not so much) so I love my second career as a pet sitter."



Carol
"I retired from the Post office at the end of Jan 2013 after 41 years and started working for The Love in February. Now dog walking has become one of my favorite past times, along with gardening, swimming, biking and kayaking. I got my first boxer puppy at 6 and have had 9 more since then. Life is so much more fun with a dog at your side!!"



Robin
"I worked at PetSmart for over 10 years and loved working in the pet business. When Tina approached me in 2012 about joining The Love, I started with providing Overnight services but continued to work at PetSmart. Once I realized how much I loved pet sitting on a regular basis and saw what a good company The Love is, I quit my job at Petsmart and became a full time pet sitter in 2013. I haven't looked back since…this is a great job!!"



Amanda
"Before joining The Love in 2013, I worked as a Nanny for a wonderful family for 9 years. I also did baby sitting and pet sitting on the side. I enjoy spending time with my family and friends and love cuddling on my three adorable guinea pigs. I love to read as well as arts & crafts. I think what I like the most about being a pet sitter is that I get to meet and love on a bunch of different animals."